The internet is for everyone, and it's important that it's accessible, especially if you receive government money or work in healthcare, non-profit, government, and finance.
Whether you already received a demand letter or complaint, or you are maintaining compliance through manual checks, we can show you where the issues are and help you correct them.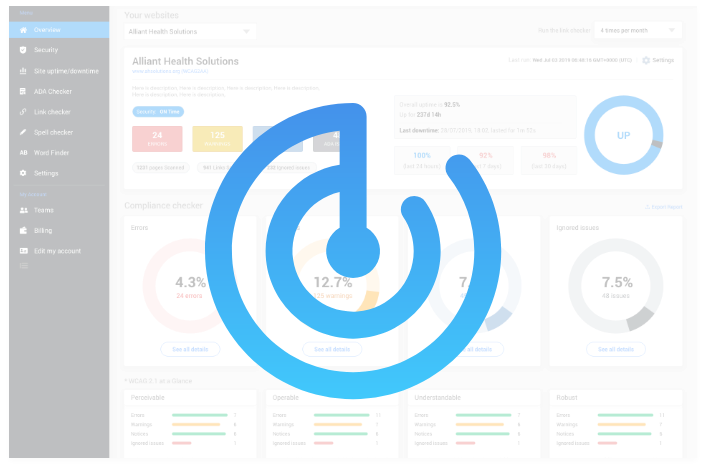 Regular Compliance Scans
Every time a site is updated or changed the state of ADA Compliance needs to be assessed. A site may be looking great on the surface, but have code on the backend that is causing unseen compliance issues.
Supportmy.website will run a full-site scan as often as every other day to return errors, warnings, and more so you can identify red flags and make necessary corrections before they cause big problems.
Achieve & Maintain ADA Compliance
After the scan, we can assist you in making any necessary corrections to keep your website in full compliance with ADA requirements and standards from both a user and code perspective. We can also help you write or modify your Privacy Policy and Terms of use to ensure your site has its legal bases covered.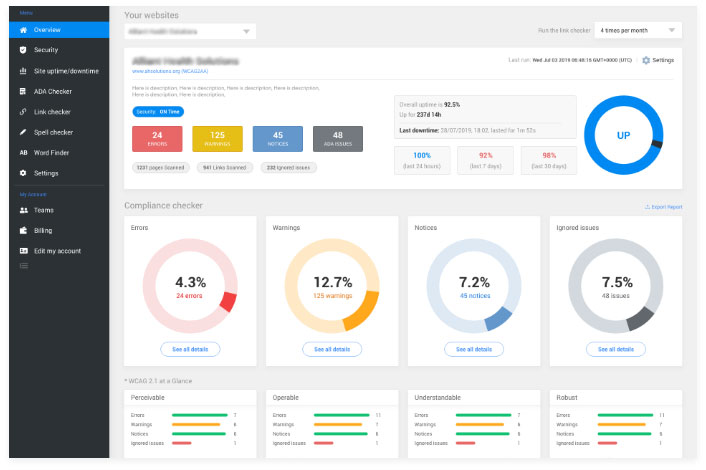 DON'T WAIT UNTIL YOUR WEBSITE IS IN A CRISIS!
An ounce of prevention is worth a pound of cure.
We look forward to talking with you
CMS Core Updates
Plugin & Module Updates
Offsite Backups
Security & Malware Testing
SSL/TLS Management
Website Support Options
Uptime Testing & Notifications
Contact Form Testing
Domain Name Renewals
Website Analytics
Keyword, Search, & Backlink Analysis
Broken Links Fixed
Mobile Responsiveness
Website Load Time
Compliance Testing
Ongoing Compliance Support